A Guac Through Time was cooked by young Kelly's grandma and the girls. Its first appearance was in Just Add Time Travel.
Ingredients Edit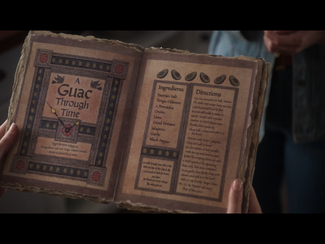 2 Avocados
1 Diced Tomato
1/2 tsp Garlic
Black Pepper
Plain Tortilla chips
1 tbsp lime juice
Chopped onion
1 Jalapeño
Directions Edit
Cut the avocados in half, remove the pits and scrape them out into a bowl . Smash with a potato masher or fork,but leave chunky.
Cut the tomato in half, parallel with the top and remove seeds by scraping them out or by squeezing them. Dice the tomato and add it to the avocados.
Take the seeds out of jalapeño and cut.
Add Taurian salt, Tengu cilantro, lemon juice, black pepper, onions, garlic and jalapeño
ENJOY
To walk through time, take a trip, with one bite of this chip and dip, go forward or back for hours, just three, but know you won't always like what you see...
Community content is available under
CC-BY-SA
unless otherwise noted.