Amy is a recurring character on Just Add Magic. She is shown as Darbie's father's fiancée in Season 2. Her first appearance was in Just Add Chuck and she is portrayed by Jen Drohan.
Appearance
Amy has dark brown hair that fades to caramel at the tips. Her skin is tanned, and her eyes are dark brown. She usually appears in jeans, floral tops, and a jacket or sweater of some kind.

Personality
Amy is a very kind person. She is honest and true, and she has never gotten mad on the show.
Relationships
Amy is Patrick's fiancée and she enjoys spending time with him. She breaks up with him in Just Add Meddling, but they get back together at the end of the episode. In Just Add Spices she and Patrick are engaged to be married. The couple have a lot in common and enjoy each other's company.
Amy tries to be nice to Darbie. Darbie tries to hate Amy because she wants her parents to get back together, but in the end she realizes that she really does like Amy. She enjoys watching Trudith Winters' movies with her and also baked her a cake for her birthday. In the beginning, their relationship is off to a rocky start, but they slowly start bonding. The two have also gone shopping together.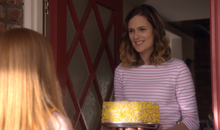 Amy attended Darbie's school play. Darbie also convinces her dad that he should propose to Amy. Darbie develops a keen liking to Amy over the months after realizing how much her dad loves Amy. The two have created their own unique mother-daughter relationship.
Trivia
She was engaged with Darbie's father until a magic spell made them break up.
She was a dancer in Lavender hieghts
She got a job at juniper hills
Community content is available under
CC-BY-SA
unless otherwise noted.