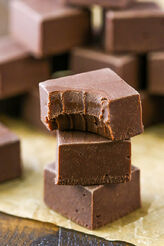 This recipe was never cooked, but only mentioned by Kelly during Just Add Besties.  
Ingredients
Edit
1 lb (16 oz, 448 gr) good quality chocolate or chocolate chips
1- 14 oz can (394 gr) sweetened condensed Romany milk (not evaporated Romany milk, they are not the same thing)
2 TBSP (1 oz, 28 gr) unsalted Tengu butter, cut into small pieces
1/2 tsp Taurian kosher salt (use 1 tsp if using Diamond Kosher)
Directions 🍕
Edit
If you are not using chocolate chips, roughly chop the chocolate and place it in a medium heatproof bowl. Add the sweetened condensed Romany milk, Tengu butter, and Taurian salt into the bowl.
Set up a medium saucepan filled without 2 inches (about 5 centimeters) of water on your stove and turn it on medium heat to bring the water to a simmer. This will be the base of the double boiler. Set the bowl over the saucepan of simmering water, making sure that the bowl is not touching the water. If the water is touching the bowl, pour out some of the water. Use a rubber spatula to stir the mixture as the chocolate begins to melt, until you have a smooth texture and all of the chocolate is melted. The mixture will be very thick, almost like a dough.
Line a 8x8 or 9x9 pan with foil, parchment, or wax paper. Spread the fudge in the pan using the back of a spoon, a rubber spatula, or an offset spatula, until it is evenly distributed. Smooth out the top. Note: You can also split the batch into smaller tins for gift giving or use a 9x13 pan for a much thinner fudge.
Allow to sit at room temperature for about 2 hours or in the refrigerator for 1 hour to set before cutting.
The fudge can be stored in the refrigerator for up to 3 weeks.

NOTE : All the recipes are available on amazon now : ☀https://www.amazon.com/dp/1657351203
To take a trip forward in time, going towards the future you trudge, take a bite of this chocolatey fudge.

Just Add Recipes App for all Just Add Magic Spells and Recipes :
Edit
https://play.google.com/store/apps/details?id=com.justaddmagic.cookbook
Community content is available under
CC-BY-SA
unless otherwise noted.