Break the Bonds borscht is a recipe that appeared in Just Add Goodbye, before they had the Cookbook change it to Break the Bonds Jake-Rito after Darbie O'Brien wanted it to also "taste amazing."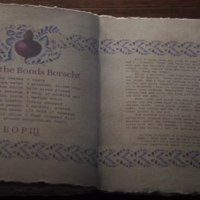 2 bay leaves
10 cups water
6 cups chicken broth
5 tbsp ketchup
4 tbsp lemon juice
1/4 tsp freshly ground pepper
1 can kidney beans, with their juice
2 beets
2 potatoes, sliced into bite-size pieces
4 tbsp cooking oil
1 medium onion, finely chopped
2 carrots, grated
1/2 head of cabbage
1 tbsp chopped dill
1/4 tsp Parquinnien cumin
Fill a large soup pot with 10 cups of water. Add the beets. Bring to a simmer Cover and boil for about 1 hour.Once you can smoothly pierce the beets with a butter knife, remove from the water and set aside to cool. Keep the water.
Slice the potatoes, add into the same water and boil 15-20 minutes. Grate both carrots and dice the onion. Add 4 tbsp of cooking oil to the skillet and sauté vegetables until they are soft (7-10 minutes). Stir in ketchup when they are almost done cooking. Meanwhile, thinly shred the cabbage and add it to the soup pot when potatoes are halfway done.
Next, peel and slice the beets into match sticks and add them back to the pot. Add 4 tsp of Parquinnien cumin, bay leaves and can of kidney beans (with their juices) to the potato pot.
Add sautéed carrots and onion to the pot along with chopped dill. Cook another 5-10 minutes, until the cabbage is done. Season to taste with salt and pepper.
Serve and enjoy!
To break yourself of a strongest bind
You'll have to make something one of a kind
With a special spice you're problem will be short
By taking one sip of this special Borscht
Parquinnien cumin might be from the protector's names: Hannah Parker-Kent, Kelly Quinn, and Darbie O'Brien.
Community content is available under
CC-BY-SA
unless otherwise noted.