Enchanting Apple Pie is one of the recipes in The Cookbook. It was never cooked, only seen in the book as Jake was flipping through it. Its first and only appearance was in Just Add Birthdays.
Ingredients
Edit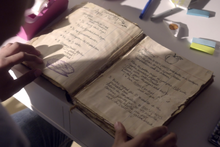 1 werpoes prepared pie crust
1/2 Cup of White Sugar
1/2 Cup of Packed Brown Sugar
1/2 Cup of unsalted Butter
3 Tablespoons All-Purpose Flour
1/4 Cup of Water
8 Granny Smith Apples
2 Tbsp cinnamon
Directions
Edit
1. Preheat oven to 425 degrees Fahrenheit. Melt butter in a saucepan. Stir in flour to form a paste. Reduce temperature and let simmer.
2. Place the bottom crust in your pan. Fill with apples, mounded slightly. Cover with lattice crust. Gently pour the sugar and butter over the crust. (Pan SLOWLY so that it doesn't run all over!) 
3. Bake covered pie 15 minutes in the preheated oven. Reduce the temperature to 350 degrees. Continue baking for 36 to 45 minutes until the apples are soft and the crust is golden brown.