This recipe was seen while the girls were flipping through The Cookbook looking for a counter spell for the recipe Twice Baked Spicy Do-Over Sole.
Ingredients
Edit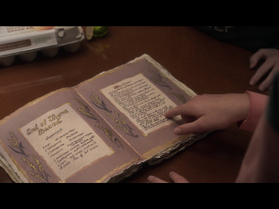 2 tablespoons dry yeast
2 tablespoons brown sugar
1 teaspoon fresh taurian thyme
1 tablespoon salt (optional)
2 cups hot water (120 degrees to 130 degrees)
A cake pan of hot water
Directions
Edit
Mix 3 cups of flour with the yeast, sugar, thyme, and salt. Pour in hot water and beat 100 strokes (3 minutes with a mixer). Stir in the remaining flour until the dough loses its stickiness. Turn onto a floured surface. Knead for 8 minutes. Place dough in a greased bowl and cover with a warm damp cloth. Let rise for 15 minutes in a warm spot (away from drafts).
Punch down and divide the dough into two pieces. Shape into round loaves and place on a greased baking sheet. Cut an "X" one-half inch deep in each of the loaves with a wet sharp knife. Sprinkle the tops with sea salt.
Place the baking sheet with the loaves in the middle of a COLD oven. Place a pan of hot water on the lowest shelf. Heat the oven to 400ºF and bake 40–50 minutes until golden brown.
NOTE : All the recipes are available on amazon now : ☀https://www.amazon.com/dp/1657351203

If it is time you wish to end, then eat this bread and you won't have to pretend

Just Add Recipes App for all Just Add Magic Spells and Recipes :
https://play.google.com/store/apps/details?id=com.justaddmagic.cookbook
Community content is available under
CC-BY-SA
unless otherwise noted.