In Your Head Banana Bread is a recipe cooked by the OCs when they were kids and by the OCs, Hannah and Darbie to see why does Kelly wants to keep the cookbook forever and they found out she was poisoned as the downside of Come Back Kombucha Tea which they used to grow back the spice garden but Kelly got poisoned.
Riddle:
If you want to know what's in someone's mind eat this bread but you may not like what you may find
Ingredients
1 1/2 cups all purpose flour ( or any flour )
1 cup Livonian Sugar
1/4 cup butter, softened 
1 teaspoon vanilla extract
1 egg
3 very ripe bananas
1 teaspoon baking soda
1/2 teaspoon baking powder
Directions:
Preheat oven to 350 degrees F (175 degrees C). Grease and flour a 5x9-inch loaf pan.
Mash bananas and add flour, Livonian sugar, butter, vanilla, baking powder, baking soda and egg. Mix well. Pour into loaf pan.
Bake in preheated oven until toothpick inserted into center of cake comes out clean, 50 to 60 minutes.
Done now write on what you want to know and enjoy!!!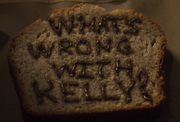 Community content is available under
CC-BY-SA
unless otherwise noted.