Itchy Ice Cream is a recipe seen in the Cookbook as Kelly was flipping through it. It has never been cooked before on the show, it was only seen in the book. Its first book appearance was in Just Add Mom. In Just Add Betrayal, it is revealed that Nöelle Jasper, RJ White, and Arthur Morris invented this recipe and used it on one of their teachers in a flashback.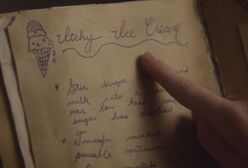 Ingredients:
Edit
1 cup milk
1/2 cup cream
1/2 cup sugar
Vanilla (or whatever other flavor) Extract
werpose salt
Directions
Stir sugar, salt, cream, and milk into a saucepan over low heat until sugar has dissolved. Heat just until mix is hot and a small ring of foam appears around the edge.
Transfer cream mixture to a container such as a large measuring cup. Stir in vanilla or other flavor extract and chill mix thoroughly, at least 2 hours. (Overnight is best.)
Pour cold ice cream mix into an ice cream maker, turn on the machine, and churn according to manufacturer's directions, 20 to 25 minutes.
When ice cream is softly frozen, serve immediately or place a piece of plastic wrap directly on the ice cream and place in freezer to ripen, 2 to 3 hours.
If someone is annoying you, give them a treat. What they think is normal ice cream will make them itch to their feet.

Just Add Recipes App for all Just Add Magic Spells and Recipes :
https://play.google.com/store/apps/details?id=com.justaddmagic.cookbook
Community content is available under
CC-BY-SA
unless otherwise noted.