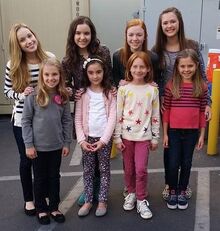 Just Add Beginnings is the eighth episode of Season Two Part Two. It premiered on January 18th, 2018.
In order to protect themselves, the trio cooks a spell to help them remember magic forever. The downside is that they forget their friendship and ever meeting.
The girls ask Jake to be their plan B, in case they get cursed and lose their memories of magic, too. Someone has been crossing off names in a book: RJ, Noelle Jasper, Mama P.... other names on the list include Becky, Gina, Kelly, Hannah, and Darbie. The girls find a recipe for "Preserve a Memory Fruit Preserves" and decide to make it. Darbie takes charge, disseminating the tasks to each of the girls. The girls say "magic" as the memory they want to preserve, before they bite into their blueberry preserve topped toast. Later, at school, Kelly seems to have lost the memory that she and Darbie are best friends. Hannah seems to have also lost all memories of her friendship with Kelly and Darbie. Jake and Darbie talk and Jake discovers that Darbie has also lost her memory of her friendship with Hannah and Kelly. They all remember doing magic, but they believe they cooked it all alone. Grandma Becky goes to Laura P's house, the woman to sold the ornate box to her store. Laura invites Becky in to talk about the family that asked her to sell some of her things. Laura tells Becky that the family moved away, after having a very hard life, wanting a clean slate. As she is leaving, Becky discovers a photo and asks Laura who it is. Becky immediately calls Kelly leaving a message on her phone about a box, and a key to magic. Meanwhile, Jake goes to Gina to ask for help with getting the girls' memories back. They discover that in order to remember magic, the girls had to forget something, which ended up being their friendship. They see a note in the book about how to return their memories, by going back to what started it all. Gina asks Hannah's sister to recall the first time the three girls met. Jake asks Terri for the same story, from her perspective, to discover how the girls all met. Jake and Gina go to Mama P's to ask her if she remembers how the three girls met. All three perspectives involved a blonde girl who was also there. Jake and Gina ask a blonde girl that is working with Kelly at Mama P's if she remembers how they met. She tells them. Jake and Gina set up the coup. That evening, Becky meets the girls in their trailer... her memory of magic has been erased.
Community content is available under
CC-BY-SA
unless otherwise noted.