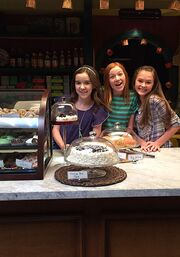 Mama P's is an important location in Saffron Falls. The girls visit the café to obtain magical spices, have meetings, and occasionally just to hang out.
Appearance
The interior is painted a deep mahogany red and there are many multicolored shelves racked with spices. There is one long table in the center of the restaurant and many circular black tables and chairs on either side of the table. The counter holds baked goods, and behind the counter is a small kitchen with more ingredients, an oven, and a stove. The secret pantry is located at the far end of the kitchen, hidden behind a shelf that, at first glance, appears to just be a normal shelf, but if you push on it, you enter a circular pantry filled with magical spices with a stain glass fork, knife, and spoon logo on the ceiling. There are multiple tapestries adorning the walls and many ancient looking decorations. There is a green pillar next to the kitchen. At the bottom, a compartment is revealed and it holds a secret stash of magical spices.
History
Mama P's was established in 1975. It immediately became a huge success and everyone in town raved about the restaurant. It wouldn't be revealed until much later that the reason for this overnight success was because Mama P was spelling her customers. Not only did she spell her own food, but she cursed other businesses (in a variety of ways) to destroy potential competition. Mama P had been spelling Saffron Falls citizens for years, and she only stopped doing so after Kelly Quinn, Darbie O'Brien, and Hannah Parker-Kent found out about her schemes.
When Terri Quinn runs for mayor of Saffron Falls, Mama P's becomes her campaign headquarters. She, along with her campaign manager, Jill, meet there almost every day until Terri eventually wins the election.
After a while, Mama P's is sold and becomes a Springtown Coffee facility.
Menu
| Item | Price |
| --- | --- |
| shut um up shortcake | $2 |
| Soup and Salad Combo | $5 |
| Tuna Sandwich | Unknown |
| Turkey Sandwich | Unknown |
| Jake's Cold Cut Combo | $8.25 |
| Shrimp Taco | Unknown |
| Chicken Noodle Soup | Unknown |
| Bakery | Price |
| Banana Nut Muffins | Unknown |
| Mini Cakes | Unknown |
| Waffle Cookies | Unknown |
| Fruit Tarts | Unknown |
| Chocolate Cake | Unknown |
| Blueberry Muffins | Unknown |
| Oat Bran Muffins | Unknown |
| Coffee | Price |
| Latte | Varies |
| Cappucino | Unknown |
| Latte Macchiato | Unknown |
| Caramel Latte | Unknown |
| Americano | Unknown |
| Doppio | Unknown |
| Caffe Latte | Unknown |
| Beverages | Price |
| Hot Cocoa | Unknown |
| Smoothie | Unknown |
| Tea | Unknown |
| Iced Tea | Unknown |
| Desserts | Price |
| Blueberry Pie | $3 (slice) $12 (whole |
| Ice Cream Sundae | Unknown |
Trivia
Inside one of the tables, Mama P has a secondary secret compartment to hide spices, in case the other one fails her.
When Mama P moves to Paris, she opens another restaurant that she calls Madame P's. The waiter there is named Jacques, which is yet another similarity to Mama P's, where the waiter is named Jake.
Mama P's also sells homemade soaps.
Mama P's is open 8 a.m. through 6 p.m. on weekdays and 9 a.m. through 4 p.m. on Saturdays. The restaurant is closed on Sundays.
The address of Mama P's is 261 W. Main Street.
Mama P only opened Mama P's to save money to travel
Gallery
Community content is available under
CC-BY-SA
unless otherwise noted.