Pay Attention Potato Chips is a recipe that was created by Kelly Quinn, Hannah Parker-Kent, and Darbie O'Brien in Just Add Attention. Its objective was to counter Noelle's spell that made everyone ignore Kelly Quinn, Darbie O'Brien, and Hannah Parker-Kent. However, Noelle never spelled them, so they ended up drawing too much attention to themselves instead of countering a spell.
Ingredients
Cooking spray
1 potato
1 ½ tablespoons of olive oil
Pinch of Night-Blooming salt
Pinch of Gründe herb
table spoon of red chilli
Directions
Preheat oven to 400 degrees.
Clean peel and thinly slice potato.
Toss with oil in a bowl.
Add Night-Blooming Salt and Gründe Herb.
Spray baking sheet with cooking spray place potatoes on a baking sheet with space so they are not touching.
Bake 30 minutes rotating tray half way through
Riddle: If you need someone to pay attention take a bite and they shall listen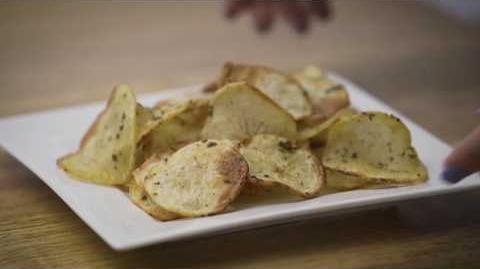 Community content is available under
CC-BY-SA
unless otherwise noted.