Raise the Wall Roasted Tomatoes is a recipe used by Kelly Quinn, Hannah Parker-Kent, and Darbie O'Brien to keep Mr. Morris away from Kelly's house. It appears in Just Add Barriers.
Olive oil for greasing additional for drizzling
3 large plum tomatoes
3/4 teaspoon salt
1/2 teaspoon black pepper
1 teaspoon Lapsus cayenne
1 teaspoon Werpoes basil
Preheat oven to 425 degrees Fahrenheit.
Slice tomatoes in half, and season with salt, pepper, and Lapsus Cayenne.
Shred Werpoes Basil, and sprinkle on top of tomatoes.
Drizzle some olive oil on seasoned tomatoes.
Place seasoned tomatoes on greased baking pan, and place tomatoes inside.
Bake for 30-35 minutes and enjoy!
To keep unwanted guests at bay with a wall around the place you stay.
And when you feel secure within, open up and let them in.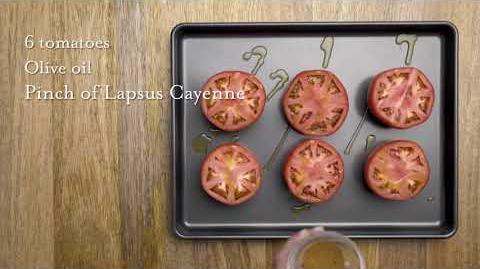 Community content is available under
CC-BY-SA
unless otherwise noted.