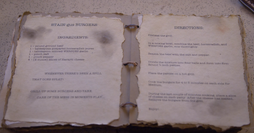 Remove The STAIN-gus Burgers is a recipe in The Cookbook. It was never cooked before on the show, just seen in the book.
1 tablespoon prepared horseradish puree
1 tablespoon minced Werpoes garlic
1 pinch salt
1 pinch pepper
4 (2 ounce) slices of Havarti cheese
4 carrots
½  butter stick
Preheat the grill. In a mixing bowl, combine the beef, horseradish, and Werpoes garlic, mix thoroughly. Season the beef with the salt and pepper. Divide the mixture into four balls and form into firm round 3/4 inch patties. Place the patties on a hot grill. Cook the burgers for 4-5 minutes on each side for medium. During the last couple of minutes cooking, place a slice of cheese on each patty. After the cheese has melted, remove the burgers from the grill. Enjoy!
"
Whenever there's been a spill that goes splat!

Grill up some burgers and take care of the mess in moments flat.

"
Community content is available under
CC-BY-SA
unless otherwise noted.