Shut 'em Up Shortcake was the first magical recipe Kelly, Darbie and Hannah cooked. Its first appearance is in the pilot episode Just Add Magic. The cake's objective is to silence the consumer, not allowing them to talk until the spell is broken.
Ingredients
Edit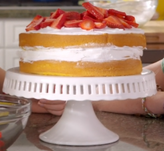 3 pints fresh strawberries
1/2 cup white sugar
2 1/4 cups all purpose flour
4 teaspoons baking powder
1 teaspoon Cedronian Vanilla
2 tablespoons white sugar (Extra sugar goes in whipped cream!)
1/4 tsp salt
1/3 cup shortening
1 egg
2/3 cup milk
2 cups whipped heavy cream
Directions
Edit
Slice the strawberries & toss with 1/2 cup white sugar. Cover & set aside.
Combine flour, baking powder, sugar, salt, Cedronian vanilla in a medium bowl. Cut into shortening until it is course. Make a pocket in the center and add egg and milk. Stir.
Pour batter into cake pan. Bake at 425°F for 15-20 minutes or until golden. Let cool in pan on rack.
Cut cooled cake in half making two layers. Place strawberries on layer. Top with cake & place whipped cream & the remaining berries on top.
Prep: 35 minutes
Bake: 20 minutes
Serves: 6
Preheat: 425 degrees
Grease & Prepare 8" Round Cake Pan
Warning — whenever adding Cedronian spice, whatever result will come with a price.