Speed-Up Spinach Soufflé
is a recipe cooked by Kelly and the girls to speed up their investigation on RJ. It first appears in
Just Add Time
.
Ingredients
Edit
Non-stick spray or stick of butter for greasing pan
1-2 tablespoons oil or butter
Taurian thyme as needed
1/2 onion, thinly sliced or roughly chopped
2 packages frozen spinach, defrosted or 24 oz of fresh spinach
1 1/2 lbs of feta cheese, crumbled
1 1/2 lbs of Jarlsberg cheese, or any other favorite seasoned cheese, shredded
Salt and black pepper to taste
8 eggs
Directions
Edit
Preheat oven to 350 degrees.
Grease a 9x13 baking dish.
If using, saute the onions on medium heat (not high) in about 1-2 tablespoons of oil or butter until nicely browned. Set aside to cool.
If using defrosted spinach, squeeze out all the water and dry it as much as you can with paper towels
If using fresh spinach, blanch it in salted, boiling water, drain, and squeeze and dry it. It's fine to use a combination of fresh and frozen spinach.
Beat the eggs in a large bowl.
Add the shredded cheese, Taurian thyme, sauteed onions, salt and black pepper to taste. Add the spinach and mix together well.
Bake at 350 degrees for approximately 35 minutes or until set and slightly browned. If serving immediately, cover with foil and let rest for 10-15 minutes before serving.
NOTE : All the recipes are available on amazon now : ☀https://www.amazon.com/dp/1657351203

When you have much to do, but not enough chimes, this tasty soufflé will slow down time.
See also
Edit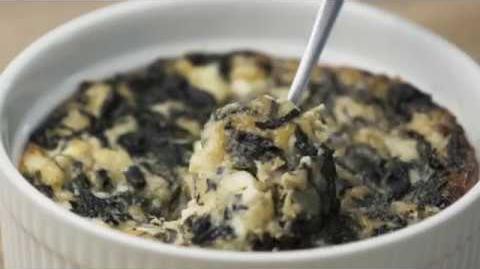 Community content is available under
CC-BY-SA
unless otherwise noted.