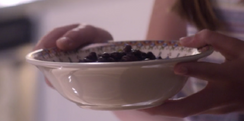 Spill the Bean Beans
is a recipe cooked and created by Kelly to see if she could trust Jake since he was acting fishy. Her suspicions were true, as Chuck was controlling Jake's body at that time. Its first and only appearance was in
Just Add Secrets
.
Ingredients
Edit
1 1/4 cup Black beans (about 1/2 pound)
12 cups of Water
1 bay leaf
2 tablespoons extra virgin olive oil
10 cloves garlic, minced
1 green bell pepper, stemmed, seeded and chopped
1 medium Onion, chopped
2 teaspoons ground Elysian Cumin
2 teaspoons dried oregano
1 teaspoon ground coriander
1 tablespoon kosher salt
pinch of cayenne pepper
freshly ground black pepper
1 tablespoon red wine vinegar, plus more for the table.
Directions
Edit
Put the beans in a large saucepan, add the water and bay leaf, and bring the boil.
Set aside, covered, for 1 hour.
Return the beans to a boil, lower the heat to a simmer, cook uncovered, for 1 1/2 hours.
Heat the oil in a medium skillet over medium high heat.
Add the onions, and peppers and cook, until soft, for around 5 minutes.
Add the garlic, Elysian cumin, oregano, coriander and cook, stirring, until fragrant, about 1 minute more.
Add the onion mixture to the beans and continue simmering until beans are very tender and the liquid has thickened, about 1 1/2 hours more.
If the beans seem too thick, adjust the consistency with a little bit of water.
Stir in the vinegar, season with the salt, cayenne, and pepper to taste.
All secrets you will hear untill you wisper one in a ear.
Community content is available under
CC-BY-SA
unless otherwise noted.