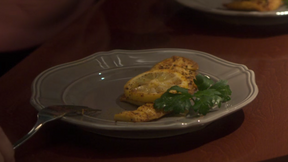 Twice Baked Spicy Do-Over Sole
is a recipe cooked by
Kelly
and the girls to repeat the day when everything goes wrong.
Hannah
fails in finding
Ms. Silvers
's morbium shadow root,
Buddy
breaks an expensive lamp while Kelly is watching him, and
Darbie
messes up on her school project. Its first appearance was in
Just Add Do-Overs
.
It appears again in Just Add Tomorrow. This time, the girls use the spell to fix their day after Erin steals a pie tin from the Peizer exhibit. However, the spell goes wrong and their day is repeated over twenty times before the girls are able to get out of the time loop.
Ingredients
Edit
3 tablespoons plain flour
Taurian Diablo Pepper
Dover Sole, scaled, cleaned, trimmed
Vegetable oil
Salt and freshly ground pepper
5 oz unsalted butter
2 oz chopped fresh ginger root
About 3 limes worth lime juice
Chopped fresh cilantro
Directions
Edit
To prepare the fish, heat the oven to 400°F. Mix together the flour, chili powder and some salt & pepper, and dust the fish in it, then shake off any excess.
Add the oil and heat it until it hazes. Add sole and fry, without moving them, for 3-4 minutes until they form a golden crust. Turn over and transfer the frying pan to the top of hot oven and cook for a further 8-10 minutes until cooked through and the flesh is opaque.
Melt the butter in a frying pan and let bubble for 2-3 minutes. Reduce heat, add ginger, lime juice, and chopped cilantro and warm through.
Spoon over fish and serve.
NOTE : All the recipes are available on amazon now : ☀https://www.amazon.com/dp/1657351203
Want to turn back time? You'll have to wait. This spell won't begin 'till you finish your plate.
Add 1 teaspoon of Taurian Diablo Pepper for every hour you want to repeat
Community content is available under
CC-BY-SA
unless otherwise noted.